Excess Baggage Shipping Worldwide
As international shipping companies, GFS Express has extensive experience and skills in transporting belongings and other items -securely and safely- to hundreds of locations across Asia. our service spans many countries and continents focussing on Asia and India. We use air freight, road freight and road freight to deliver to thousands of destinations. All of your excess baggage needs will be handled efficiently and quickly – from collection and freighting to clearance through customs and delivery.
Excess Baggage Shipping Europe, Mid East, Africa, Asia, USA and other worldwide destinations - book online or call us on 020 7584 6565
With GFS Express you can send your excess baggage by air, road or sea and we will ensure that your packages arrive in the desired time period. We will advise you as to what would be the easiest, quickest and cheapest way to ship your goods whether it be to use Sea freight, air freight or road freight. Road freight and Sea freight charges are determined by volume (the amount of space your baggage takes up) whereas air freight prices are based on weight and size, or whichever is greater.
Our excess baggage service will take care of all of the handling for you – from the moment that you give us your baggage until it arrives at the destination. Our rates include customs clearance, local delivery and terminal fees. We specialise in shipping to South Africa, Dubai and India and also provide services to India and Kuwait amongst other countries across Asia and the Middle East. Where applicable, customs inspection charges, quarantine clearance, taxes and customs duties are not included in our rates.
Door to Port Excess Baggage Service
We provide a full door to port service for baggage shipping, which allows you to pick up your delivery when it arrives at its destination. As the sender you will have to collect the baggage yourself and clear it through the customs checks and settle any other terminal charges, local taxes and wharfage fees.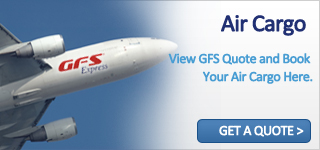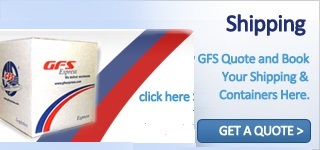 GFS Express offers rates for airport to airport, door to airport or even door to door worldwide. GFS offers collection service from door to door.
Air Cargo to:- Europe 2-3 Days Middle East 2-3 Days USA 2.3 Days Asia & Africa 2-3-5 Days to all major airports. The consignee must please arrange local Customs clearance at destination or take advantage of our worldwide network.
You can check if your shipment has arrived and other tracking information 24 hrs a day. When tracking by consignment please enter the tracking number as shown on your consignment note or booking order number, if booked Online.
At GFS Express we offer a range of affordable express shipping services for business clients around the globe, specialising in express delivery Dubai, courier services India and a whole host of other global locations. Our company have been operating for a good number of years and have in this time learnt a lot about the international business courier needs of our clients and the destinations they ship to. This has allowed us to expand our operations into regions such as express shipping Middle East, international shipping Saudi Arabia and business shipping Pakistan. We also offer a range of express delivery options to European destinations, including next day courier service UK as well as US delivery services. If you wish to send a parcel using our service and have any specific express delivery requests of specifications please give us a call. Our team of customer service representatives will be able to supply you with a bespoke quote, meeting your express shipping Mumbai or express delivery Delhi needs.